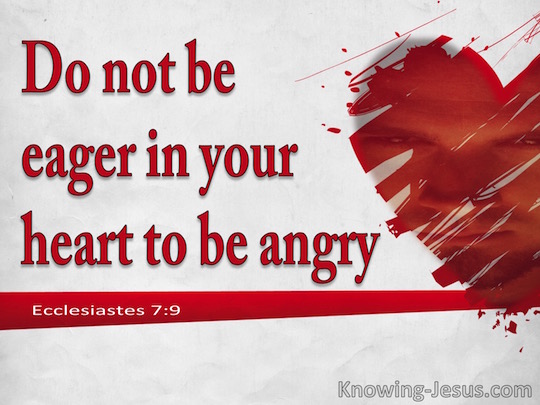 Ecclesiastes 7:9 Do not be eager in your heart to be angry, For anger resides in the bosom of fools.
"The theme of Ecclesiastes is the necessity of fearing God in this fallen, confusing world. The Lord deserves his people's trust while they seek to understand what it means to "fear God and keep his commandments" (12:13). This is true wisdom." A
One of the major temptations of Satan to walk in the flesh is anger that comes from our heart. Anger leads to "strife, dissensions and factions" B with others. This is the opposite of true wisdom from God. I grew up in poverty, weighed 120 lbs when I graduated from high school and my middle name was "Champ", really. In addition, I was socially awkward. This resulted in a chip on my shoulder that resulted in fear and anger. Truly "anger resides in the bosom of fools."
It was not until I was 35 that I was convicted that anger was a sin and needed to be confessed and forgiven. I discovered that every time I was angry because of fear that someone was taking advantage of me or mistreating me, that a 2nd problem was created. This 2nd problem had to be addressed before the 1st problem could even be thought about.
This was a profound revelation and the Holy Spirit began to change me. When a problem arose my 1st reaction was to be thankful in Jesus and then began to solve the problem. C However, anger is a temptation of Satan that does not ever go away and I must persevere every day by the grace of God to maintain love, joy, and peace rather than anger.
Be filled by the Spirit all the time! D
Notes: A- Source click here; B- Galatians 5:19-21 CSB; C- This book was used by the Holy Spirit to convict me that anger and fear were sins that needed to be confessed and forgiven. I developed this approach to problem solving. This has been refined over the last 50 years to this approach. D- for source click here