Sharing the gospel is worth the sacrifice and effort.
O God help me to live today as your servant finishing strong so I can repeat the words of Paul near the end. "I have fought the good fight, I have finished the race, I have kept the faith." [2 Timothy 4:7-8 CSB]
Am I willing to be submissive and pursue with all my strength God's will as clearly outlined in the Bible. Sometimes this requires saying no to good things, that I am skilled at and enjoy, to leave energy and time for His will.                                                     
Acts 20:18-21 should cause me to review my service for Jesus in the past and set His will as the goal for the future.                                                                                                
 What does it mean to me to fulfill God's will for my life? Do I honestly believe that faithfully fulfilling God's will, as given in the Bible, brings contentment?
 Am I supporting my pastors and being a faithful watchman proclaiming God's truth in each opportunity provided? [Ezekiel 33:16]
Am I consciously daily relying on the divine power of Jesus through the knowledge of Him from the Bible and the Holy  Spirit?
 Memory Verse – Acts 20:24 But I count my life of no value to myself, so that I may finish my course and the ministry I received from the Lord Jesus, to testify to the gospel of God's grace.
 3rd Missionary Journey: Acts 18:23-21:15; 52-59 AD; Paul writes 1 & 2 Thessalonians, 1 & 2 Corinthians, Galatians and Romans; 3,303 miles. Map below.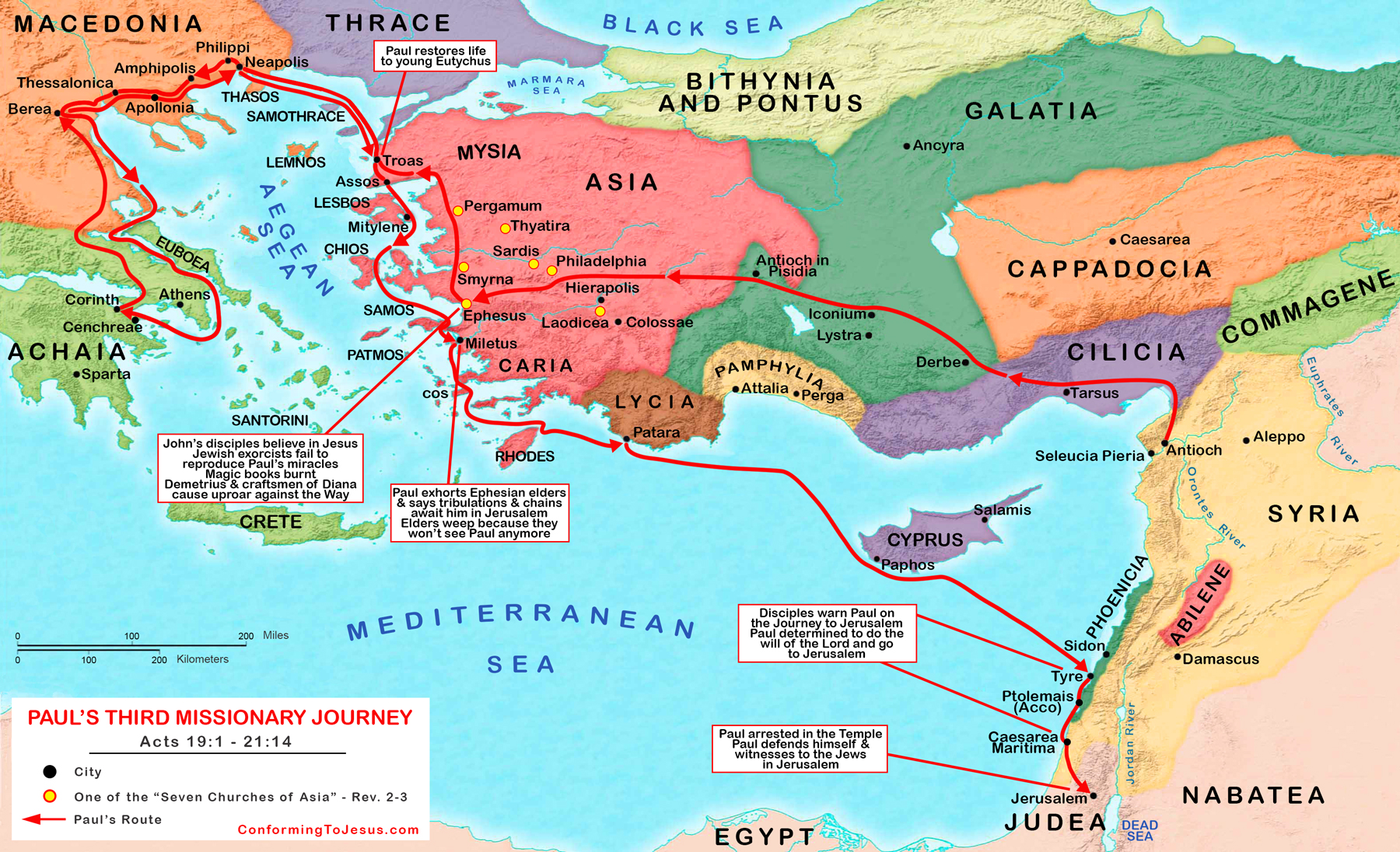 Henry Luke 2/12/2018
For how to have peace with God click here, how to have peace of God click here, and how to disciple/teach others as described in 2 Timothy 2:2 click here.
For other similar posts, click on "Acts 20" in Tags below.